PRODUCT OVERVIEW
Non-Track Bonding Coat-41 is an environmentally friendly engineered emulsion for use as a non-tracking tack coat for paving operations. NTBC-41 is especially important for mill and fill and overlay paving operations. NTBC-41 promotes superior bonding between old and new pavement to prevent slippage between pavement layers. NTBC-41 adheres to sandy and dusty material that remains after the sweeping of a milled surface whereas traditional tackifiers do not. In addition, due to chemistry, an NTBC-41 treated surface will "re-activate" and bond with a subsequent overlay due to the thermal characteristic of the HMA layer.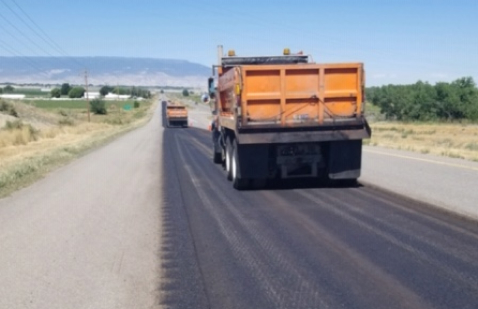 NTBC-41 was developed as a non-tracking tackifier to expedite the early return to traffic. NTBC-41 replaces the need for slow setting emulsions (SS-1, SS-1h, CSS-1 and CSS-1h) and rapid- setting emulsions such as RS-1, RS-2, CRS-1 and CRS-2VOC. All components of NTBC-41 are free of hazardous solvents and are not harmful to aquatic and mammal life.
Cost –Effective – Increased production with quick release to traffic Recognized – Used in California, Colorado, Idaho, Oregon & Washington Proven – Field Tested by Oregon State University and Oregon DOT Approved
As a non-tracking tackifier NTBC-41 provides:
Superior adhesion on many surface types including old HMA, new HMA, milled HMA and grooved Portland cement concrete
Can be opened to traffic in significantly less time when compared to traditional tack coats
Non-tracking and superior cohesion of dusty aggregates which can significantly limit windshield damage after opened to traffic
Increase safety and work environment since product contains no VOCs or elevated temperature material
All components of Earthbind® are considered to be:
Free of hazardous solvents
Non-flammable
Non-corrosive to metal
Not harmful to aquatic and mammal life
Not carcinogenic
Contact EnviRoad® today to learn more!